Kids Braces Made Easy At Signature Smiles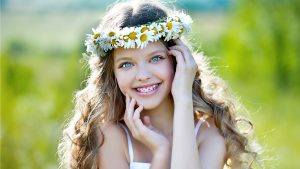 Braces can be an exciting time in your child's life. When children reach middle school age, they may be watching all their friends get braces, and are ready to join the crowd. The promise of beautiful, straight teeth at the end of the process is a great one! However, what do you do if your child is not one of the many children who are jumping to be the next kid in their class with braces? There are many ways to put your child at ease about the braces process. Choosing Signature Smiles is the first step, our dental teams are experts at making kids feel at ease when it comes to their dental appointments. When you have a great dentist, braces don't seem so scary. If your child is still nervous, here are some ways to get them ready to take on braces.
BRACES GIVE YOU BEAUTIFUL TEETH
Talking to your child about what braces are for is a great way to help them get comfortable with the idea of wearing them. Remind your child that their braces are going to give them a new, straight, and beautiful smile. They won't be wearing braces forever. Some children wear them only for a few months, some for a few years. Either way, at the end, they will love their new smile!
BRACES ARE NOT PAINFUL
Many children are worried about braces being painful. All those wires can look intimidating. However, they are not as scary as they look. Braces will cause some minor discomfort after adjustments, which is manageable with medicine like advil or ibuprofen. Let you child know that their mouth may be a little sore after their adjustments, just like their muscles get sore after they run or play a lot. This is normal, and goes away in a few days. This can be a great time for our patients to indulge in a cool treat like ice cream or popsicles to help with the pain. Just make sure you brush extra carefully right after.
SIGNATURE SMILES MAKES YOUR KIDS BRACES EASY
Our Signature Smiles family wants to make your child's braces a comfortable experience. Give us a call today to schedule your next appointment. We look forward to creating beautiful smiles for your whole family.
Previous Post
Next Post