What Cosmetic Dentistry Can Do For You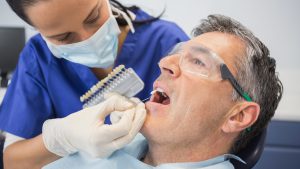 What is cosmetic dentistry? This name is a general term that refers to any dentistry done with the purpose of improving the overall appearance of the teeth. At Signature Smiles, we believe your teeth should not just be healthy, they should look healthy too! Cosmetic dentistry is a great way to improve self-confidence. If you want to be smiling big for every photo you're in this Holiday season, consider cosmetic dentistry your new best friend.
WHAT DOES COSMETIC DENTISTRY INCLUDE?
There are lots of different procedures that fall under the umbrella of cosmetic dentistry. Some of them are purely for looks, others can both improve the appearance and the health of your teeth. The easiest way to learn more about what cosmetic dentistry procedures may be right for you is to make an appointment at our conveniently located Signature Smiles office.
BRIGHTER SMILES WITH TEETH WHITENING
One of the most common cosmetic dentistry procedures we perform at our dental office is teeth whitening. Most adults are great candidates for tooth whitening. If you have a special event coming up, or know photos will be taken of you soon, this is a great option for getting a sparkly white smile very quickly. Our teeth naturally get stained by food and drinks, and habits like smoking. Restoring your smile to it's whitest is a great way to boost your confidence for the holidays.
NATURAL SMILES WITH DENTAL IMPLANTS
Another procedure that we specialize in is dental implants. We have written several previous blogs about all the benefits of dental implants, and if they are right for you. Dental implants are a long-term and natural-looking solution to tooth loss. If you have lost a tooth, dental implants can restore your original smile. No one will even know the difference between the dental implant, and your real teeth.
PERFECT SMILES WITH VENEERS
If you have teeth with gaps that you would like to close, crooked teeth, or even cracked or damaged enamel, dental veneersare a cosmetic procedure you may have considered. With proper care, veneers can last decades, and give you a beautiful and natural smile. Dental veneers are custom to every patient. You can get a full set of veneers, or just a few to improve the look of your smile.
ACHIEVE YOUR DREAM SMILE AT SIGNATURE SMILES
If you are looking to improve your teeth for a more confident smile through cosmetic dentistry, give us a call today. All of our teams at each Signature Smiles location are highly skilled at cosmetic dentistry, and happy to help. Let Signature Smiles create the smile you have always dreamed of with one of our cosmetic dentistry procedures this holiday season.
Previous Post
Next Post