Invisalign® was approved by the FDA for teeth alignment in 1998. Since then, millions of orthodontic patients have opted for the Invisalign teeth alignment technology. These plastic braces that are designed for your specific smiles and teeth structure offer an alternative method to traditional metal braces. Invisalign® braces utilize incremental adjustments to the teeth's position over a period of time with several Invisalign trays. Invisalign trays are required to be worn at least 20 to 22 hours per day over two-week periods before being replaced with a new set. The degree of adjustment will determine the number of Invisalign trays and the length of the process to complete the treatment for a healthy, beautiful smile.

Houston's Premier Invisalign® Braces Provider
Our Signature Smiles dental office offers affordable Invisalign braces and is officially recognized as Houston's Premier Invisalign® braces provider. We also offer free orthodontic consultations to our patients. Call us or book online now for an appointment.

I've been a patient for regular checkups and Invisalign for a few years and have always received incredible service. Highly recommend!
Invisalign for Teens

For teenagers, our dental office also provides Invisalign Teen. Invisalign Teen provides tremendous advantages for the self-esteem of adolescents. These plastic trays enable patients to wear braces almost unnoticeably so that there is no drastic change to the facial appearance. Since Invisalign Teen braces are removable, they can eat whatever they wish whenever they want so they don't have to worry about avoiding hard candies, or gum, or various other types of food that can hinder traditional braces or cause particles to get stuck. These braces also offer the ease of cleaning teeth since they can be removed while conducting oral maintenance. Typically, teenagers will need to have their wisdom teeth removed prior to starting Invisalign Teen. Our orthodontist will conduct a thorough examination to ensure that would be necessary, as well as ensuring that Invisalign Teen is the right choice for the patient.
Why Get Invisalign?
Convenience and Confidence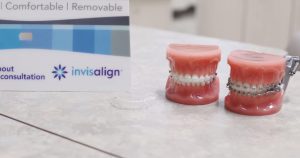 Over the years, there have been numerous methods developed to help straighten teeth. Invisalign has arguably become the biggest trend and modern solution to orthodontics due to the great comfort and discretion it provides. Here are just a few reasons why you should consider receiving Invisalign braces:
Transparent braces to maintain a beautiful smile
Elastic Thermoplastic substance provides greater comfort
Removable braces simplify oral maintenance
Patients are able to eat whatever they want
Advanced 3D Digital Impressions
The Simplified Method to Dental Impressions
Invisalign Process
Our orthodontist at Signature Smiles will take a dental X-ray and then a scan of the patient's teeth. With Invisalign, patients no longer have to undergo the oral impressions process with the putty-like substance. By using the latest 3D imaging technology, called iTero, our orthodontist can acquire a 3D image of the teeth within seconds. Our orthodontist will analyze the 3D images and determine the adjustments required. The patient will be consulted about the available options. Once the patient agrees to the specifics of the braces, the Invisalign trays will be created and delivered to the patient.
Getting Your Invisalign
Depending on the dental insurance, some of the Invisalign cost may be covered. The total Invisalign cost varies based on the degree of adjustment required for proper alignment of the teeth.
Book your orthodontic appointment online with Dr. Gardner to get started with a consultation today.