Have A White Christmas With Signature Smiles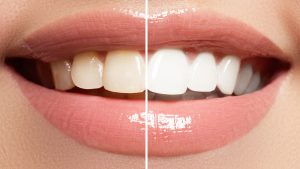 A white Christmas is hard to come by here in Houston. Luckily, you can make your dreams of a white Christmas a reality this holiday season with our teeth whitening special. You can recieve in-office teeth whitening for just $199 (regularly $249) making your white Christmas dreams an affordable reality.
PROFESSIONAL TEETH WHITENING IS FOR EVERYONE
Getting a professional teeth whitening has many benefits. It is the quickest way to make an impression on your family and friends this holiday season. Everyone will be talking about your amazing teeth. Professional teeth whitening also improves your overall oral health, like everything we do here at Signature Smiles. By removing the stains and buildup from your teeth, you enable them to become stronger and healthier.
Professional Teeth Whitening Can Help Your Teeth Stay Healthy
Many people ask us "why would I come in for a professional whitening, when I could just whiten my teeth at home?" Professional teeth whitenings are much stronger than those available for at home use. You are able to have much more control over the level of whiteness, and the process is very quick. In around an hour, you will have a sparkling smile sure to dazzle everyone you meet this holiday season. This is one of the quickest dental processes we offer, with some of the most noticable results.
Professional Teeth Whitening Will Boost Your Confidence
Teeth whitening is also a great way to boost confidence. Many of our patients are self conscious of their smiles when they first come in to our office. We want every patient to walk away with confidence, and a professional teeth whitening is a great way to do that. You will be smiling big in every family photo this year with your beautiful white teeth by Signature Smiles.
Have A White Christmas This Year With Professional Teeth Whitening At Signature Smiles
Our office will be offering this white Christmas special, but it won't last long. Appointments are filling up fast, so give us a call today. Save money on a white smile this year with Signature Smiles!
Previous Post
Next Post