For many people, braces have become an essential part of growing up. They are almost a right-of-passage. Straight teeth have, over the decades, become directly associated with beauty. Our goal is to ensure that every patient has a healthy and beautiful smile. One of the most popular ways, and best ways, to achieve this is through orthodontics, better known as braces.
At Signature Smiles in The Woodlands/Conroe area, we provide every type of braces. We offer Clear Braces, Invisalign® braces, as well as the more traditional 3M metal braces that can be supplied with colorful band options.
Great place for braces. They offer financing with small payments. The entire staff is friendly and accommodating. The orthodontist is super nice and great with kids.

Brandi Andersen

October 20, 2018

12345
More Reviews
Clear Braces and Invisalign for Adults

At Signature Smiles, we believe that every dental appointment should be a fun and memorable experience. We want every child to want to come to our dental office in The Woodlands/Conroe area, which is why we've done all we can to ensure they have a good time. We have created a special room for kids of all ages where they can play video games or watch movies. This room is right next to the lobby so parents can always be close to their child throughout the entire appointment. In fact, we always ask the parent to accompany their child during the dental procedure so that the child will have a familiar face close to them.
Also during the procedure, every dental station has a TV above the dental chair so kids can watch their favorite program or movie, which keeps their minds occupied on something other than dentistry. After the dental procedure, kids are able to dig through our treasure of goodies and toys to find their favorite item and take it home with them. It is just a small token of our appreciation and a friendly way for kids to always remember us.
Braces for Teens
Teenagers are the primary audience that wears braces. Approximately 75% of braces wearers are teenagers, therefore, we understand the importance of braces for the younger generation. The importance of braces is not simply about straight teeth, but they are about the health of the patient as well. Ensuring that kids and teenagers have straight teeth also ensures that they are less likely to experience malocclusion, or extensive cavities due to food particles becoming trapped in and around teeth. Yes, braces have been developed to create a beautiful smile, but more importantly, they have been developed to provide a healthy smile.
Our dentists believe in treating patients with their overall health in mind. Like many adults today, we do not want our young patients to look back 20 years later and regret never receiving braces. We typically suggest 3M braces for teens, as well as children, and these orthodontic treatments usually last approximately two years. Yes, a patient's teeth may be straight after nine months but we don't want your teeth to shift back into their original positions once the metal braces come off. Metal braces treatment also includes a permanent retainer that fits on the underside of teeth to keep them from shifting once the braces come off.
Invisalign Teen braces are also an option for teenagers.
Got my braces done and i feel good !!!
Innovative Impressions for Braces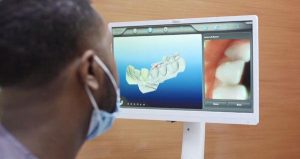 At Signature Smiles, we only use the latest in dental technology for all of our dental procedures, especially with orthodontics and the use of Invisalign. Using state-of-the-art technology, our orthodontist is able to avoid the messy process of conducting impressions through the puddy-like substance. Impressions are now able to be done through quick digital facial scans, enabling for a more simplified and just as accurate impression. Digital scans also speed up the time for Invisalign braces to ship your aligners or retainers to our dental office.