Invisalign: Clear Up Your Smile with Clear Braces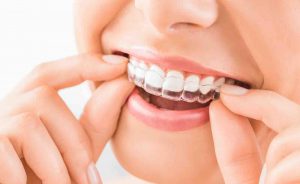 More and more people are gravitating to Invisalign, making them an incredibly popular choice for braces. These clear plastic tray aligners enable patients to have their teeth straightened and their smiles restored almost invisibly.
At Signature Smiles, we are a Premier Provider for Invisalign, which means countless Houstonians have come and continue to come  to our office for their Invisalign braces. This enables us to offer great prices and deals on these clear plastic braces, which helps ensure more patients are able to afford them.
RECEIVING YOUR INVISALIGN BRACES AT SIGNATURE SMILES
Patients who need braces due to crooked, misaligned or gapped teeth should schedule a consultation with our Board Certified orthodontist to learn if they are a good candidate for Invisalign.
During the consultation, our orthodontist will conduct a thorough evaluation of the patient's teeth. Our Board Certified orthodontist will be certain answer any and all questions and concerns the patient may have.
Once the evaluation process is finished, our dentist will proceed with X-ray impressions of the patient's oral structure in order to create custom tray aligners. By customizing the Invisalign plastic tray aligners, we are able to make certain that the braces fit the teeth perfectly in order to begin shifting them into place. These clear braces are replaced about every two weeks with new aligners. This is equivalent to metal and ceramic braces being tightened.
In comparison to metal and ceramic braces, Invisalign braces can be removed by the patient every day. The clear plastic tray aligners must be worn for at least 20 to 22 hours every day in order for the teeth to successfully be straightened in a timely manner. These few hours are optimal for when patients wish to eat or brush and floss their teeth.
COME GET YOUR INVISALIGN BRACES TODAY
Interested in receiving Invisalign braces? Contact us to schedule your orthodontics appointment. Come receive your braces from our Board Certified orthodontist today.
Previous Post
Next Post