Find High-Quality Cosmetic Dentistry at Signature Smiles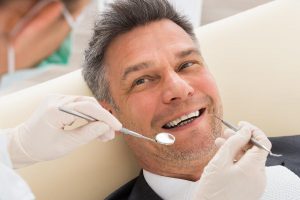 At Signature Smiles, we pride ourselves on providing excellent dental care to all of our Houston area patients. For many of our patients, it isn't only about maintaining a healthy smile, which is most important, but it is about maintaining a beautiful smile. This is where cosmetic dentistry is utilized.
Cosmetic dentistry is the field that provides dental procedures focused on ensuring a patient's smile looks amazing. At Signature Smiles, we offer various cosmetic dental procedures to accomplish those goals.
WHY RECEIVE COSMETIC DENTISTRY?
Cosmetic dentistry can turn unattractive smiles into Hollywood dazzlers. From stained to chipped teeth, Signature Smiles has all the necessary components and dental technology to transform any smile.
At our dental office, we have experienced just about every type of dental need. Here are some of the more common cosmetic dentistry needs:
STAINED TEETH: This is one of the most common issues for Houstonians and one of the most common issues our cosmetic dentists address. Stained teeth occur due to consuming dark drinks and dark foods, and the older a patient gets, the darker the stain. Teeth whitening is the simplest method to whitening teeth. At Signature Smiles, we offer in-office and at-home teeth whitening procedures. The in-office teeth whitening procedure can dramatically brighten teeth in one to two sessions. The at-home teeth whitening takes longer, but many patients prefer this method because of convenience.
CHIPPED TEETH: Teeth undergo constant strain every single day. This strain often leads to chipped teeth. At Signature Smiles, we recommend taking care of any chips or breaks immediately in order to keep teeth from experiencing further breakage or cavities. Our cosmetic dental fillings can take care of chipped areas in a timely manner, which helps reinforce the strength of teeth.
MISSING TEETH: There are so many ways a tooth can go missing. A tooth can be knocked out, broken, or sometimes be left without an adult tooth, leaving a noticeable gap. Our cosmetic dentists are able to fill in these gaps with dental implants or a dental bridge. Our dentist always takes the time to explain which option is best for the patient.
NEED HOUSTON'S BEST COSMETIC DENTISTRY?
If you suffer from any of the aforementioned cosmetic dental issues or are simply dissatisfied with your smile, then contact us and schedule a cosmetic dental appointment. Our cosmetic dentists look forward to assisting you and providing you the smile you've always wanted.
Previous Post
Next Post