The Best Choice for Braces in the Greater Houston Area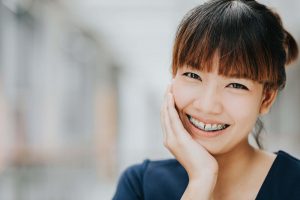 At our dental office, we offer every type of braces: 3M metal braces, ceramic braces, and Invisalign. These three types of braces provide our patients with various options to straighten their teeth.
Our goal is to provide Houston-area patients with healthy and beautiful smiles at a price they can afford, on a reasonable timescale, with plenty of options.
PRICE. TIME. OPTIONS FOR BRACES
So how does Signature Smiles provide the best in price, time, and options for braces? Here is a quick rundown of how it all works:
PRICE – At Signature Smiles, we focus on price points for all of our dental patients. Our orthodontists and general dentists explain how price fluctuates between traditional metal braces, ceramic clear braces, and Invisalign. Metal braces are the least expensive braces and are also the most common. They are also the most visible when worn, which sometimes people don't like. The second least expensive type of braces are the ceramic braces. These match the color of the teeth, which is why they are often called clear braces. The third least expensive type of braces are the latest type of braces breakthrough called Invisalign. These plastic tray aligners allow a patient to straighten their teeth almost unnoticeably, but they are more expensive than the other two. After our orthodontist conducts a thorough examination of teeth, he is able to better diagnose the specific problems and which type of braces would be best for the patient.
TIME – With each type of braces comes the ability to straighten teeth in different timeframes. Metal braces are known for being the strongest of the three types of braces. They have proven to straighten teeth quicker than ceramic braces or Invisalign. Ceramic braces are also very strong and can often straighten teeth in the same amount of time as metal braces, but this depends on how extreme the case of malocclusion is. This will be determined by our orthodontist. Invisalign are the most convenient, when it comes to look and feel, but with this comes a sacrifice of strength. These braces aren't as strong as metal or ceramic.
DO YOU NEED BRACES?
If you are considering getting braces, then book your appointment today and schedule a dental exam with our orthodontist. We look forward to providing you with the smile you've always wanted.
Previous Post
Next Post