Summer Deal! Braces Just $3500!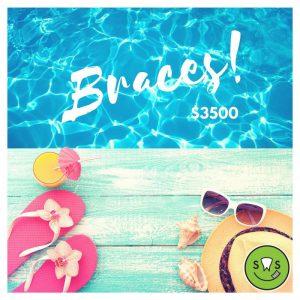 Signature Smiles is making a big push for healthier teeth and a healthier mouth. This is why our office is offering braces for just $3500*.
This offer is strictly for the summer and ends on August 31. Our dental office is providing every type of braces for our patients at this incredibly low price. We are offering traditional metal (3M) braces, ceramic (clear) braces, and Invisalign and Invisalign Teen braces.
WHY RECEIVE BRACES?
Aside from this low price being such a rarity, our Houston dentists understand the importance of having straight and strong teeth. When teeth are straight, this helps ensure that food particles do not become trapped between or around teeth. Misaligned, crooked or gapped teeth hide food particles that can quickly turn to plaque. This plaque buildup begins to eat away at the enamel of teeth, which then creates cavities.
Straight teeth are a great way to arm the mouth against plaque buildup. With improved oral health, overall health is improved as well.
HOW LONG DO BRACES TAKE?
Braces can take anywhere between 12 and 24 months to straighten a patient's teeth. Our orthodontist will conduct a thorough examination of the patient's teeth in order to diagnose various issues and provide a treatment plan. Certain cases that may be extreme, like heavily misaligned teeth, require metal braces. Metal braces are the strongest type of braces available and are able to adjust teeth quicker than the other types. Ceramic braces are also very strong, but not as strong as 3M braces.
For teeth that aren't severely crooked or gapped, Invisalign or Invisalign Teen is often suggested. Invisalign braces are typically the most expensive, but with this $3500 deal at Signature Smiles, they are even more affordable.
Regarding the specificity of the timetable for completing the braces treatment, our orthodontist will be able to provide an accurate assessment for how long it will take.
INTERESTED IN BRACES?
If you or one of your family members is interested or in need of braces, then contact us to book your appointment, and begin your journey to a more healthy and beautiful smile.
*Braces Summer Deal is cash only.
Previous Post
Next Post