Braces: If Dogs Can Do It, So Can You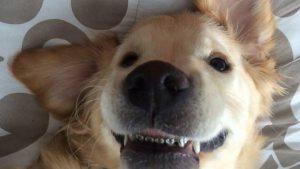 Most people have their teeth grow in not completely straight. There are typically little nuances, like gaps, angled teeth, or crooked teeth, that are really nuisances. At Signature Smiles, we've seen the big problems and we've seen the small problems, and we've fixed them all. What we have never seen at our office is a puppy coming in for braces.
About a year ago, a Golden Retriever puppy made big headlines for having his teeth straightened with braces. The owners of the puppy had noticed that the dog had stopped playing with his toys and his dietary intake had decreased because of his teeth. Their worry concerned them so much that they took them to a "doggy dentist". The dog's teeth was apparently causing such discomfort that they became a deterrent to playing and, more importantly, eating.
This isn't an uncommon occurrence for humans. Teeth, when impacted or suffering from malocclusion, can cause discomfort, swelling, and pain in the mouth. During these moments, we recommend coming in to our Houston office to visit our orthodontist. If your child is suffering from these problems, then we suggest scheduling an appointment with our pediatric dentist.
At our Houston dental office, we provide every type of braces: traditional metal braces (3M), clear braces (ceramic), and Invisalign or Invisalign Teen (plastic tray braces). Depending on the severity of the case, our orthodontist will recommend a specific type of braces for a specified amount of time.
We don't recommend bringing your dog in for braces since we don't really do that sort of thing. But we do feel that if a dog can have their teeth fixed through braces, then so can you. And as far as we know, the puppy is doing just fine.
To schedule your dental appointment, whether orthodontic, pediatric, or general, then contact our office today.
Previous Post
Next Post