What Are My Orthodontic Treatment Options?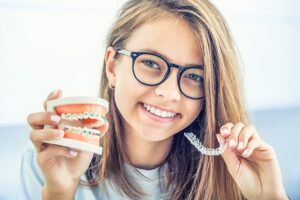 If you're feeling self-conscious about your smile or experiencing side effects from bite misalignment, there are several orthodontic treatments that can offer improvement and relief. Our Conroe, TX orthodontist offers a range of different treatment options to help patients of all ages straighten their teeth and correct bite issues, including:
Traditional Metal Braces
Metal braces are a fixed appliance treatment for controlled, precise teeth movement. Small brackets are attached to the front of each tooth with a dental adhesive, then connected by a thin wire held in place with elastic loops. The wire is gradually tightened over time during routine orthodontic visits until the teeth have moved into an optimal position. At Signature Smiles, we use 3M braces, which have a small, smooth bracket design that matches the anatomy of the tooth and can be customized with a wide range of colorful—or more subtle—band options. On average, patients wear traditional braces for 12 to 24 months.
Invisalign®
Patients often report enjoying the discretion and comfort of Invisalign® as well as the freedom to remove their aligners while eating, drinking, and cleaning their teeth. This innovative orthodontic solution uses clear aligners made of flexible plastic to help correct crowding and spacing issues as well as mild to moderate bite misalignment. Patients receive a new set of aligners every one to two weeks, allowing for incremental adjustments to the teeth's positioning. The Invisalign® system works best when aligners are worn for at least 20 to 22 hours per day. Most patients complete their treatment in around 12 to 18 months, with some cases taking as few as six months.
Porcelain Veneers
For those who are not interested in lengthy orthodontic treatment timelines, porcelain veneers can provide an alternative solution via a process that is sometimes referred to as "instant orthodontics." By bonding a thin layer of durable porcelain material to the fronts and sides of the teeth, patients can improve the appearance of mild crookedness and uneven spacing in as few as two dental visits. Veneers also do not require follow-up visits for tightening and adjusting or the use of a retainer, and they can last for many years—even decades—with proper care. That said, veneers are primarily concerned with cosmetic improvement, and they cannot treat the underlying causes of misalignment. 
Orthodontics for Kids & Teens
Orthodontic assessments are typically performed around the age of seven to see if early interceptive treatments to correct the growth of the jaw and other potential bite issues may be helpful. Depending on the issue or concern, your child's orthodontist may recommend traditional braces (generally for ages eight and up) or Invisalign Teen®.
The first step toward achieving a healthier, more beautiful smile is making an appointment for a thorough examination with a skilled and experienced orthodontist. If you would like to schedule an initial visit with Dr. Gary Gardner, D.D.S., please contact our office today.
Previous Post
Next Post