Why Choose Invisalign from Our Houston-Area Dental Office?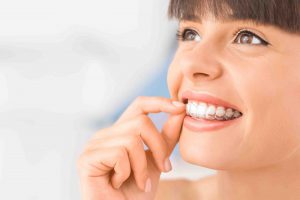 Braces are often thought of as a tool used solely for cosmetic dentistry purposes. However, braces also contribute to the overall health of your teeth. Misaligned or crooked teeth are not only unattractive, but they can also make brushing and cleaning the teeth difficult. Teeth that cannot be properly brushed and cleaned can lead to periodontal disease. This puts the mouth at risk for tender or bleeding gums and tooth loss.
Thankfully, Signature Smiles, located in The Woodlands/Conroe area, conveniently offers not only top-quality pediatric dentistry, but great orthodontics for adults as well. A great option for those who are reluctant to wear traditional, metal braces is Invisalign clear braces. All of our orthodontists are Board Certified and our office is a certified Premier Provider of Invisalign. Here are a few reasons to consider Invisalign over traditional braces:
Invisalign Is Attractive
Adults often are reluctant to wear metal braces because they "don't want to look like a kid." People may even wonder why you are wearing kids braces. Indeed, metal braces are often associated with our awkward teenage years. Metal braces are immediately noticeable and can make communicating a professional image difficult.
Invisalign, on the other hand, is barely noticeable. It is often difficult to notice that a person is wearing them at all. They are more attractive than metal braces and offer a great alternative.
Invisalign Is Comfortable
Traditional metal braces contain wire and chunks of metal that can sometimes feel clunky and uncomfortable. Although the discomfort usually gets better with time, Invisalign clear braces are smooth and comfortable from the start. There are no wires or protruding bits of metal.
While metal braces must remain in place until one of our trusted orthodontists remove them, Invisalign clear braces are removable. The clear plastic tray aligners can be removed for brief periods of time, such as to eat or drink, and can be done so with ease.
Here at Signature Smiles, we look forward to helping you achieve a beautiful smile and healthy mouth. Feeling embarrassed about wearing braces should not be an obstacle to these things. Contact us today to set up a consultation.
Previous Post
Next Post