Merry Christmas from Our Dentist Office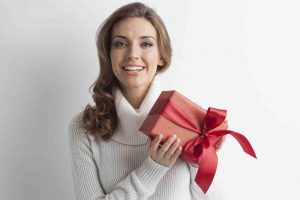 This coming weekend brings the joy of Christmas and all the celebrations that come along with it. From all of us at Signature Smiles, we wish you and your family a very Merry Christmas.
You are probably still finishing up your Christmas shopping. That's about like us too. We still have those last few family members and friends to take care of. Speaking of taking care of things, now is the best time to ensure your teeth are ready for the upcoming year. With 2017 ending in less than two weeks, your dental benefits will expire as well.
FINISH 2017 BY FINISHING OFF YOUR DENTAL BENEFITS
Do you need a dental cleaning, dental filling, tooth extraction, or even braces? Then come to our dental office. We have dentists that specialize in various dental fields. Here are just some of the types of dentistry we work in:
PEDIATRIC DENTISTRY: We love kids. This is why we have built our dental office to be kid-centered. We have video games and movies so that your children won't be nervous while at the dental office. We provide dental cleanings, dental fillings, dental crowns, and more for kids.
ORTHODONTICS: Seeing our patients smile with beautiful and straight teeth makes us smile. The best method to securing a straight smile is with braces. At Signature Smiles, our team provides metal braces, ceramic braces (clear braces), and Invisalign braces (plastic tray aligners). Our orthodontist will examine your teeth and educate you on which braces are best for you or your child.
COSMETIC DENTISTRY: If your teeth are already straight, then that's a huge plus. But what about how bright your smile is? If it isn't as luminant as you would like, come to our dentist office and receive an in-office or at-home teeth whitening or porcelain veneers. These are two incredible ways to getting a confident smile.
NEED TO MAKE A DENTAL APPOINTMENT?
Regardless of what type of dental work you need done, contact our Signature Smiles dental office today. Our dental staff will work with you regarding your dental benefits and scheduling a time that best fits you. We look forward to helping you and your family achieve pristine oral health. Oh, and Merry Christmas!
Previous Post
Next Post