How to "Secretly" Straighten Your Teeth with Braces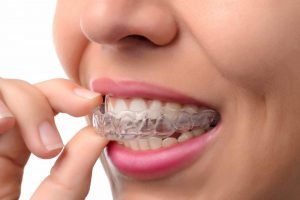 Did you know that you can have your teeth straightened without anyone knowing? Well, it might not be completely true, but people who wear Invisalign braces are able to have their teeth straightened almost invisibly.
Invisalign are clear plastic tray aligners that are custom fit for a patient's teeth. If a patient has crooked, misaligned, or gapped teeth, they can be straightened by our orthodontist.
HOW DOES INVISALIGN WORK?
When a patient comes to our dental office, our orthodontist conducts a thorough examination of the patient's teeth. Then an impression is taken of the teeth to create the plastic tray aligners. From this impression, the plastic aligners are created.
These plastic oral aligners tightly fit the teeth and begin to adjust them. Every two weeks, the patient returns for a new set of Invisalign braces. New impressions are made to fit the adjusted teeth. With each new set, the teeth become more and more straight.
THE BENEFITS OF WEARING INVISALIGN BRACES
When people think of braces, they typically think of traditional metal braces. These are the most common. Braces usually trigger thoughts of metallic looking teeth and major changes to the facial appearance. With Invisalign and Invisalign Teen, patients who are young and old can have their teeth straightened with very little change to their appearance.
Aside from "secretly" straightening teeth, there are more benefits. Braces can never be removed until they officially are taken off by a dentist. With Invisalign, they can be removed every day. The braces must be worn at least 22 hours per day, but can be removed for brushing and eating. This gives the patient a small break from the pressure of the braces.
Since these plastic tray aligners can be removed, it ensures that food won't get stuck, like they do in typical braces. Patients can easily brush their teeth and floss to remove any food particles left from eating. Along with that, patients don't have worry about not eating certain foods that can get stuck. They can eat whatever they wish.
CONSIDERING GETTING INVISALIGN?
If you are interested in having your teeth straightened without having any sudden changes to your appearance, then contact us to book your appointment!
Previous Post
Next Post