Cosmetic Dentistry Gives You that Perfect Selfie Smile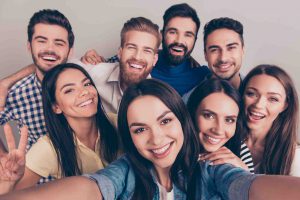 The world of social media has created a selfie phenomenon. People young and old, big and small, from all reaches of the world, are looking to take that perfect selfie to post onto their Facebook, Instagram, Snapchat, etc., in search of likes and comments. Smartphones have long catered to this phenomenon by providing reversible camera lenses on their phones.
Cosmetic Dentistry: More Important Than Ever
With the selfie revolution, cosmetic dentistry has become more important than ever. People are looking to achieve a great smile because they understand the power and attractiveness found in a warm, endearing smile.
Signature Smiles is committed to giving you that perfect selfie smile. As experts in both pediatric and adult dentistry, dental implants and teeth whitening are just a few of the cosmetic dentistry methods we offer to get your smile selfie ready. We understand that without a perfect smile, there is no perfect selfie.
Dental Implants
There is no greater antagonist to a great smile than a missing tooth. Having this ailment would cause anyone to become self-conscious about their smile, and unwilling to take a selfie while smiling. Dental implants are tooth replacements that complete a person's smile and provide the self-confidence to smile that was previously lacking. Dental implants from Signature Smiles typically last for a lifetime.
Teeth Whitening
There is much to be said about having a pearly white smile. White teeth represent a clean mouth and shows good oral hygiene. White teeth also communicate professionalism and greatly adds to a person's overall attractiveness. Signatures Smiles is ready to give you a bright, radiant smile. Our office has two options to allow patients to whiten their teeth at their own rates: in-office or at-home.
Signature Smiles understands that we are in the middle of a selfie revolution. With selfie sticks, reversible cameras, and different types of software, taking selfies on a regular basis has now become the norm. This makes having a great smile even more imperative.
Contact us today and book an appointment. We look forward to getting you on your way to that perfect selfie smile!
Previous Post
Next Post