Cosmetic Dental Procedures Offered At Our Houston Dental Offices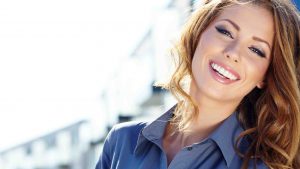 Every year, millions of Americans looking to improve their smile undergo a wide array of cosmetic dentistry procedures. Patients understand that a beautiful smile can make a huge difference in their lives.
In addition to providing awesome pediatric and general dentistry, Signature Smiles also offers great cosmetic dentistry services. Each of our three dental offices serving the Greater Houston area have experienced cosmetic dentists ready to give you greater confidence through a winning smile. Let's take a look at three of the cosmetic dentistry services we offer:
Teeth Whitening
Teeth whitening is one of the most popular cosmetic dentistry services offered at our Houston dental offices. A bright, white smile communicates professionalism and increases a person's overall attractiveness. All three of our Houston dental offices has two options to allow patients to whiten their teeth at their own rates: in-office or at-home. No matter which option you use, you will see wonderful results.
Dental Implants
Dental implants are permanent tooth replacements for missing or cracked teeth. When receiving a dental implant at Signature Smiles, our Houston dentists will first surgically insert a titanium post below the patient's gum line, thus creating a stable foundation for an artificial tooth. Dental implants look and function like your natural teeth and typically last a lifetime.
Metal or Invisible Braces
Some of the biggest detriments to a nice smile are crooked and/or gapped teeth. People with such ailments are afraid to smile too much in fear of exposing their unsightly teeth. Thankfully, Signature Smiles has great orthodontics to easily resolve this issue.
For those looking for a more traditional approach to straight teeth, we offer metal braces. Alternatively, we also offer Invisalign clear braces for those who would like to be more discreet and not have a mouth full of metal. Both options provide amazing results that will not only improve your smile, but provide health benefits such as better chewing and digestion as well.
At Signature Smiles, we believe that cosmetic dentistry goes beyond aesthetics. Therefore, in addition to providing a great smile a patient can be proud of, we also look to increase their self-confidence and overall health as well. Contact one of our three offices located in The Heights, Humble, and The Woodlands, today to see which cosmetic dental procedure is right for you.
Previous Post
Next Post