Get Your Christmas Smile from Our Houston Dentist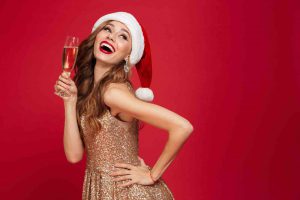 It's that time of year again where hugs are longer, handshakes are stronger, and smiles are brighter. If you are uncertain about your smile, our Houston dentists can make sure you are confident in your smile.
Our Christmas gift to you this year is a beautiful and healthy smile. We want every one of our dental patients to smile freely and brightly. Whether you are a child or an adult, our general dentists and our pediatric dentists are able to make certain you have the best smile possible. Here are just some of the ways we can beautify your smile for all the Christmases to come:
TEETH WHITENING: This in-office or at-home process can provide you with a beautifully white smile. The in-office teeth whitening procedure is much quicker, but a little more expensive. With the at-home teeth whitening method, we take an impression of your teeth, provide you with the customized mouthpiece, and the teeth whitener.
BRACES: If you or your child suffers from crooked, misaligned or gapped teeth, our Houston braces can be the best Christmas gift available. We provide metal braces, ceramic braces, and Invisalign braces (clear plastic tray aligners). These typically take between 12 and 24 months to straighten teeth. From there, braces become the Christmas gift that keeps on giving.
TEETH IMPLANT: If you are missing teeth or just one tooth, our restorative dentists can fix this problem with dental implants. A dental implant typically lasts the lifetime of the patient and looks and feels like a real tooth.
CHOOSE SIGNATURE SMILES FOR YOUR CHRISTMAS DENTAL CARE
If you are looking for a great dentist in the Houston area, come to one of our three locations in The Heights, The Woodlands, or Humble. We look forward to providing you and your family with great smiles for Christmas.
Previous Post
Next Post