Benefits of Braces for Kids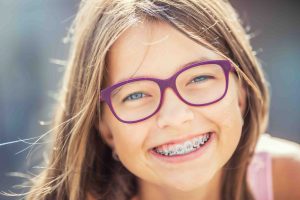 Although Signature Smiles is often associated with our world-class pediatric dentists, don't forget that we also offer awesome orthodontics! Serving the Greater Houston area, Signature Smiles offers every type of braces available on the market: 3M metal braces, clear ceramic braces, and Invisalign or Invisalign Teen. With the school year right around the corner, here are a few reasons to get your kid fitted for braces:
Braces Provide Straight Teeth
The development of a positive self-image is of the utmost importance in children, as a positive self-image greatly contributes to a child's overall future success in life. We all remember how difficult navigating our school years could be, where self-image and appearance were often determining factors in being liked and accepted.
Regardless of age, one of the first things people notice about others is their teeth. When a child has teeth that are crooked or misaligned, they are more reluctant to smile or talk too much, in fear of being laughed at or judged. This often causes the child to withdraw and avoid social situations thus, impairing his or her social development. With straight teeth, your child can confidently smile and talk without feeling self-conscious.
Braces Provide a Healthy Mouth
As important as appearance can be, the greatest benefit of kids braces goes beyond esthetics. Straight teeth are conducive to a healthy mouth. Misaligned teeth cause an improper bite that can lead to ailments such as chewing difficulties, jaw problems, and worn down tooth enamel. With straight teeth, your child will be able to bite, chew, and even speak better.
Straight teeth also contribute to better oral hygiene, as straight teeth are easier to clean. Misaligned or gapped teeth make properly brushing, flossing, and cleaning more difficult. This can lead to cavities and periodontal disease, which in turn, would require more visits to our dental office than you would have preferred.
As much as we love seeing your kid, our greatest concern at Signature Smiles is that your child has a healthy mouth and great smile. Straight teeth are key to these things, so contact us today for a braces consultation. Let us help give your child more confidence and better oral health!
Previous Post
Next Post