How Can I Fix My Crooked Smile Without Braces?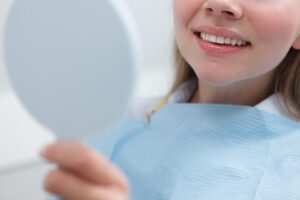 Advancements in dentistry have created innovative solutions for crooked, crowded, and otherwise misaligned teeth that go beyond traditional braces. While metal braces continue to provide an excellent option in many cases, some patients are deterred from seeking treatment by concerns relating to the aesthetic and lifestyle impacts associated with having brackets and wires on their teeth. At Signature Smiles, our highly skilled cosmetic dentist—Dr. Brian Stanworth—and orthodontist—Dr. Gary Gardner—offer progressive options such as Invisalign® and porcelain veneers to help patients correct a crooked smile without the need for braces.
Invisalign®
Invisalign® is a revolutionary orthodontic treatment system that gently and gradually straightens teeth using a series of clear, flexible plastic aligner trays. Typically, treatment can be completed in 12 to 18 months (or less) when patients commit to wearing the aligner trays for 20-22 hours each day. Invisalign® is a popular alternative to braces for patients all over the world due to the aesthetic and functional benefits it can provide. Some of the potential benefits include:
Custom-fabricated aligners that are designed to be discreet and comfortable
Capable of correcting mild to moderate orthodontic concerns, including: crooked or crowded teeth, gaps between teeth, and bite issues (overbite, underbite, and crossbite)
Aligners can be removed when eating, drinking, brushing, and flossing for greater convenience
No metal wires that need to be tightened (as are required with traditional braces), meaning less follow-up dental visits
Porcelain Veneers
Porcelain veneers are made of highly durable yet extremely thin dental porcelain, which is meticulously sculpted into an ideal shape and then bonded to the front and sides of your natural teeth. Although veneers cannot treat the underlying cause(s) of misalignment, they are a beautiful, natural-looking solution that can conceal dental irregularities and enhance the overall aesthetics of your smile. With proper care, porcelain veneers can last for years (possibly decades) and offer patients a range of benefits:
Veneers are capable of concealing minor gaps, mild crookedness, and uneven teeth spacing
The veneers procedure typically has a quick turnaround, oftentimes requiring as few as two dental visits (this, combined with their ability to conceal crooked teeth, has led veneers to be referred to as "instant orthodontics")
Veneers also have the ability to resolve other dental concerns, such as chips, cracks, and discoloration
There is no need for ongoing follow-up visits or a retainer with porcelain veneers
Our dental team can discuss the different options with you and determine your candidacy during a consultation. For patients with more severe or complex orthodontic concerns, traditional braces may still be the optimal treatment. One of the many conveniences at Signature Smiles is our in-house orthodontist, Dr. Gary Gardner, who works closely with the rest of our team to help patients achieve exceptional outcomes. Our entire dental team has extensive experience and training, enabling them to advise on the most beneficial solutions for each individual's unique orthodontic concerns.
Contact Signature Smiles today to learn more about Invisalign®, porcelain veneers, braces, and other effective dental services for achieving a straighter, better-aligned smile. We are happy to help you schedule a consultation to determine the best fit for your goals.
Previous Post
Next Post