We Make Pediatric Dentistry Fun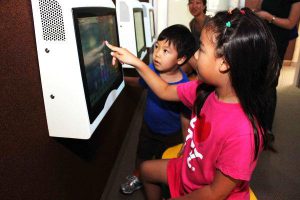 Our primary goal at Signature Smiles is to provide you and your family with a first-rate dental experience. This experience covers everything from the moment you and your family arrive at our office till the moment you leave.
Our dental staff and dentists work hard to organize your visit so that you aren't waiting for long periods of time and that you don't have numerous questions when you reach our dental clinic. Our goal is to streamline and simplify your visit so that you and your family can rest assured that everything will go smoothly and you can focus on the task at hand: keeping your teeth healthy.
PEACE OF MIND BUILT IN
Part of our process of making certain your dental appointment goes smoothly is in our building itself. We understand that children are very hesitant about the pediatric dentist. For many, it is a very new experience and there can be anxiety. For this reason, we have created an entertainment room in our dental facility.
These entertainment rooms have numerous video games and TV screens so that kids can keep their minds busy and off the idea of having a dental procedure. We find that it is much easier for kids if they are able to play and be entertained, instead of sitting in a chair awaiting the pediatric dentist. At Signature Smiles, we love to see smiling faces, and watching kids play video games or watch movies ensures that smiling faces are all around.
ENTERTAINMENT DURING THE PROCEDURE
It can feel a little daunting for a child when their name is called for their dental appointment. But we have made even the dental procedure exciting. Children typically run to the dental chair because there is a TV screen at each one and they are able to choose any movie or cartoon show they wish to watch. (It doesn't hurt that adults are able to do the same.) Whether they are watching "Frozen", "The Lion King", or "Rick and Morty", kids are able to enjoy their experience much more than at any other dental clinic.
If you are looking for a family dentist, then contact us today! We look forward to providing you and your family with happy and healthy smiles.
Previous Post
Next Post