Is Your Smile Ready for the New Year?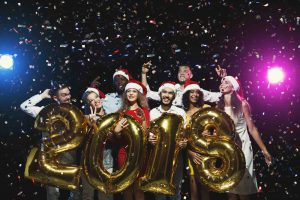 New Year's Eve is only a few days away, which means there are tons of parties and socials with friends. These nights out on the town are perfect times for selfies and group photos. That means your smile needs to be spot on. At Signature Smiles, we can make sure your smile is absolutely stunning.
Our team is experienced in cosmetic dentistry treatments. If you are unsatisfied with your smile, then let our dentists and dental hygienists take care of your teeth. Here are some ways we can make sure your smile is ready for those New Year's Eve parties and for all of 2018:
COSMETIC DENTISTRY FOR YOUR HOLIDAY SMILE
PORCELAIN VENEER: If your teeth are dark because of food or beverage stains, then porcelain veneers are a great solution. Not only are veneers great for covering stains, but they also help with chipped teeth and other dental issues.
TEETH WHITENING: Teeth whitening is a very simple method to achieving a beautiful smile. There are actually two methods for teeth whitening: in-office or at-home. The in-office procedure is the quickest method to whitening teeth. The at-home method takes more time, but is less expensive. The at-home teeth whitening procedure starts with creating a custom mouthpiece to wear with the whitener. Our dental staff will inform you of how often you should apply the teeth whitener and for how long.
DENTAL IMPLANTS: This is one of the most impactful uses of cosmetic dentistry. Dental implants are able to fill in for missing teeth. They look and feel exactly like a natural tooth. What's even more important is that they function the same as well. If you are missing a tooth or several teeth, then dental implants are the best solution and they typically last the lifetime of the patient.
A BEAUTIFUL SMILE FOR 2018
If you aren't completely satisfied with your smile, then come to Signature Smiles. Our dentists look forward to providing you the perfect smile for 2018 and all the years to come.
Previous Post
Next Post