Protect Your Kids' Teeth Before the Year Ends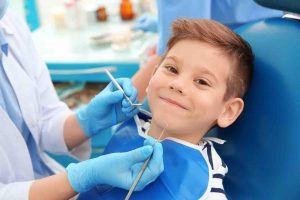 We are a month and a half from the end of 2017, which means now is the best time to use your dental insurance for your kids. Our pediatric dentists are ready to get your kids' teeth on track for the new year.
Dental insurance doesn't roll over, which means once this year ends, so does the 2017 coverage. Dental insurance is a "use it or lose it" situation. The good news is that you can use your dental coverage to take care of whatever you need and then everything is renewed on Jan. 1, giving you and your family ample opportunity to take care of the rest.
Our kids dentists will analyze your child's teeth to see if there are any issues that need to be taken care of. At Signature Smiles, our office is prepped to take care of every type of dental procedure.
Here are just some of the dental procedures our dental office can take care of for your kids and the rest of your family:
If you or your child is in need of any of the aforementioned dental procedures, then contact our dental office and schedule your appointment. Our dental staff will help you with your dental insurance coverage questions as well. We look forward to providing your whole family with beautiful and healthy smiles.
Previous Post
Next Post