Dental Cleaning, Exams, X-Rays: Just $99!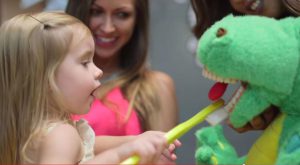 Are you in need of dental work, but have cleared out your dental insurance plan for the year? Or maybe you don't have dental insurance right now. Regardless of the circumstance, we have an offer that is perfect for you and your family. This month for cash customers only, receive a dental cleaning, exams, and all the X-Rays for just $99.
Our dental officewants to ensure that you maintain consistent dental upkeep. It is very important to maintain your dental cleanings every six months in order to combat plaque buildup and potential cavities in hard-to-reach places. Conducting thorough dental examinations will help our dentists safeguard your mouth from possible problems, like tooth decay, gum disease, or periodontal disease. This is also a great time to bring the family in for their bi-annual dental checkups. Our Signature Smiles location has focused heavily on children's dentistry, so we've turned our dental office into a great place for kids.
Receiving X-Rays can ensure that dental issues will be caught before they become problematic. Our X-Rays will show our dentists the exact state of your teeth. This is incredibly important because it can keep problems from worsening. With this valuable information, our dentists will be able to inform you of what you can do to stave off possible problems that could occur in your mouth. These dental X-Rays will save you financially because it will provide our Houston dentists with visibility into the depths of cavities, oral bone structure, and the overall strength of your teeth.
Choosing the month of December is the best time to take advantage of this dental special. Ending the year with pristine oral health is also the best way to start 2017. We hope to see you here soon.
Previous Post
Next Post