All I Want For Christmas Is Straight Teeth Braces Deal!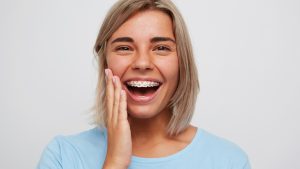 If all you want for Christmas is straight teeth, come visit one of our dental team right away. This holiday season, schedule your initial appointment for braces, and lock in our special offer. All bookings made during the month of December are eligible for our special prices on braces. Regularly $4,200, you can get braces for just $3,800. With this amazing deal, there is no time to waste, so give us a call today, spots are filling up fast.
Who Is Eligible For Our Straight Teeth Promotion?
Braces can be a solution to misaligned or crooked teeth for people of any age. Whether it's for your child who is just starting middle school or high school, your college student, or yourself, braces are a viable option for many different dental problems. Many adults find that they do not need to wear their braces for very long, and there are many ways to make your adult braces less noticeable. For kids, we make the braces process fun with colored bands to show off to their friends. No matter how young or old, braces can help boost your confidence in your smile. Get straight teeth for Christmas this year with braces at Signature Smiles.
While You're In, Consider Our Dental Discount Plan
If you are without dental insurance for 2019, there is no need to worry. You can still get the straight teeth you have been dreaming of with our dental discount plan. Designed for our patients without dental insurance, the Signature Smiles Dental Discount Plan was created to help provide your family with great dentistry at an affordable cost. Ask us about setting up your 2019 Dental Discount Plan today.
Call Our Office Today For Your Appointment
If you are in need of braces, call straight away to set up your appointment, and make sure to mention our straight teeth promotion. Spots are filling up quickly, so act now to lock in your beautiful, straight smile for 2019.
Previous Post
Next Post