Conroe Dentist Identifies the Ways Dental Needs Change with Age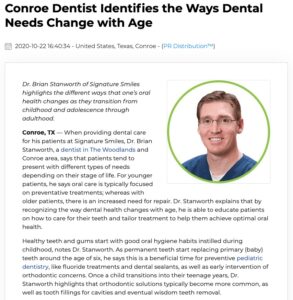 Dr. Brian Stanworth of Signature Smiles highlights the different ways that one's oral health changes as they transition from childhood and adolescence through adulthood.
Conroe, TX — When providing dental care for his patients at Signature Smiles, Dr. Brian Stanworth, a dentist in The Woodlands and Conroe area, says that patients tend to present with different types of needs depending on their stage of life. For younger patients, he says oral care is typically focused on preventative treatments; whereas with older patients, there is an increased need for repair. Dr. Stanworth explains that by recognizing the way dental health changes with age, he is able to educate patients on how to care for their teeth and tailor treatment to help them achieve optimal oral health.
Healthy teeth and gums start with good oral hygiene habits instilled during childhood, notes Dr. Stanworth. As permanent teeth start replacing primary (baby) teeth around the age of six, he says this is a beneficial time for preventive pediatric dentistry, like fluoride treatments and dental sealants, as well as early intervention of orthodontic concerns. Once a child transitions into their teenage years, Dr. Stanworth highlights that orthodontic solutions typically become more common, as well as tooth fillings for cavities and eventual wisdom teeth removal.
During one's adulthood, Dr. Stanworth has found that men and women become more interested in cosmetic dentistry options, like porcelain veneers and teeth whitening. In addition, he notes that restorations are often necessary to correct damage caused by decay, injury, or gradual wear. While orthodontics may seem geared toward teenagers, Dr. Stanworth reveals that this area of treatment has become increasingly popular among adults, especially the Invisalign® clear aligner system. He adds that periodontal therapy is another treatment that may become necessary, due to the onset of gum disease caused by harmful bacteria.
As patients enter their later years, Dr. Stanworth says periodontal care continues to be a major focus. This is because elderly patients are more prone to decay, tooth damage, and gum disease. He explains these challenges often result from thinning enamel, receding gums, and weakened tooth nerves that make problems less noticeable in their early stages. Due to these oral changes that come with being of a more advanced age, Dr. Stanworth says teeth replacement options like dentures and dental implants are incredibly common among geriatric patients.
Although teeth gradually change throughout one's lifetime, Dr. Stanworth believes that men and women can maintain good oral health and function when they understand what to expect and plan accordingly. Regardless of a patient's age, he emphasizes that one of the most important habits is scheduling routine dental exams and professional cleanings at least twice per year. By doing so, he says patients can learn how to optimize their oral health, as well as address any concerns in their earliest stages.
About Brian Stanworth, DDS
Dr. Stanworth is a cosmetic dentist in Conroe at Signature Smiles, where he provides comprehensive dental care including pediatric, cosmetic, restorative, and advanced solutions. He earned his bachelor's degree from BYU-Hawaii, followed by his doctor of dental surgery from the University of Texas Dental Branch at Houston. Dr. Stanworth completed postgraduate training in cosmetic and implant dentistry, and he regularly completes continuing education courses to stay at the forefront of dental advancements. He is available for interview upon request.
For more information about Signature Smiles, visit mysignaturesmiles.com or facebook.com/SignatureSmilesWoodlands.
Contact:
Signature Smiles
2400 Farm to Market Rd. 1488
Suite 200
Conroe, TX 77384
(936) 224-7007
Rosemont Media
858-200-0044
www.rosemontmedia.com
Previous Post
Next Post