Choose One of Houston's Best Dentist Offices with Signature Smiles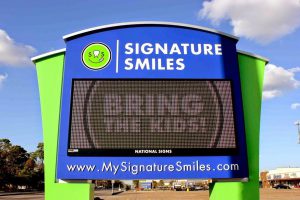 There are countless dentist offices in Houston. Finding the right one is no simple task, but Signature Smiles has made it easy for everyone. Our office provides every type of dentistry, including pediatric dentistry, orthodontics, prosthodontics, and oral surgery. All of our dentists are highly trained and experienced in their specific field. We also house a large staff of dental hygienists and dental assistants.
A DENTIST CLINIC FOR THE WHOLE FAMILY
If you and your family have been looking for a great family dentist, then look no further than Signature Smiles. Here are just some of the reasons why our dental office is one of the best in the area:
SUPER KID FRIENDLY: Our dental clinic comes standard with kids areas that have video games and movies. Our pediatric dentistry area is decorated with Disney characters and more. Also, each dental chair comes with its own TV screen, which allows for kids to pick their own TV show or movie to watch during their dental procedure.
LOOK AT THOSE REVIEWS: Our reviews are second-to-none. Patients of all ages love to come to Signature Smiles because of our friendly staff and our professional results. We have tons of 5-star reviews because we aspire to provide only 5-star service.
EVERY DENTAL PROCEDURE: We aren't just about one or two or three dental procedures. We have taken the time to bring in the country's very best dentists in their specific field. We provide dental fillings, dental crowns, dental implants, braces, dentures and bridges, and everything else in between.
COME TO SIGNATURE SMILES FOR ALL YOUR DENTAL NEEDS
We would love to be able to take care of all of your family's dental needs. Simply contact our dental office and schedule your appointment today. We look forward to seeing you.
Previous Post
Next Post