Bring the Family to Houston's Best Dental Office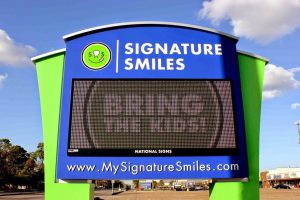 Houston is the fourth largest city in the nation, which means there are a lot of teeth to protect. At Signature Smiles, we understand that people typically do not look forward to coming to the dentist, but we want everyone to feel comfortable coming to our dentist office. For this reason, we've made our dental office the best place to be when needing to take care of your oral health. In fact, there are plenty of adults and children who like coming by even when they don't have an appointment.
Why Signature Smiles Is the Best Dental Office
Our large staff of dentists, dental assistants, and dental hygienists care about one thing: our dental patients. Ensuring that every patient enjoys their visit and leaves our dentist office with a positive experience and a healthier mouth is our highest priority.
We have TV screens at every station so that every patient, regardless of age, can enjoy a movie or TV show while undergoing whatever dental procedure required. We also have a theatre room for children. They are able to play video games or watch movies before visiting the pediatric dentist. This ensures no child has to sit in the waiting room being pensive about their visit. We want every patient to enjoy every second of their time at Signature Smiles.
All of our dentists are highly experienced and take the time to explain every detail of the dental procedure. We want our patients to be fully aware and informed of the state of their oral health. We also encourage parents to come with their child to the dental procedure so they can ask whatever questions they may have.
Along with these great aspects, our dentist office only utilizes only the latest dentistry technology to perform the highest quality of dental work. The health of Houston's teeth is what we are about, no matter how many there are.
If you or your family member is in need of dental work, contact our office. We look forward to seeing you!
Previous Post
Next Post