A Confident Smile Through Cosmetic Dentistry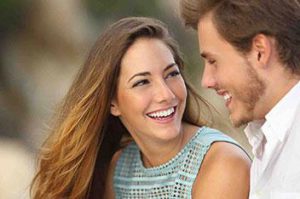 Being confident is an important aspect of everyday life. Having a beautiful smile can increase your confidence level. At Signature Smiles, our cosmetic dentists understand this and specialize in the field of cosmetic dentistry.
Our dental office provides various cosmetic dental procedures that can completely rejuvenate your smile. Our dentists are here to ensure your smile shines and you are able to smile with confidence. If you have missing teeth, suffer from tooth decay or have weak teeth, or simply do not like the appearance of your smile, then our cosmetic dental procedures are perfect for your needs.
Here are some of the ways our cosmetic dentistry operations can benefit your smile:
BRIGHTEN YOUR SMILE: If your teeth have been darkened from years of drinking dark drinks, like wine or coffee, then we can easily brighten your smile through various methods. Our cosmetic dentists can perform teeth whiteningprocedures or place veneers on teeth. Either of these options can turn a yellow or brownish smile into a bright white smile.
COMPLETE YOUR SMILE: There are millions of Americans who are missing teeth. In fact, about half the population is missing at least one tooth. At Signature Smiles, we provide dental implants and prosthodontics (dental bridges and dentures). Either of these options can complete your smile and give you the confidence you need to keep smiling.
REMOVE CAVITIES: If you are hesitant about laughing wholeheartedly because of cavities, then you should definitely come to Signature Smiles. We can fix those issues very quickly. Our cosmetic dentists can remove the cavities and replace them with dental fillings that match your teeth. Your smile will appear as if it has always been cavity-free.
GET YOUR CONFIDENCE BACK WITH OUR COSMETIC DENTISTRY
If you have been concerned about the appearance of your smile, then you should schedule a cosmetic dental appointment. We are a full service dental clinic that focuses on dentistry for the entire family.
Previous Post
Next Post