Is Flouride Healthy for my Child's teeth?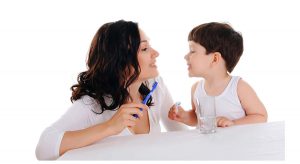 In today's social media world, Facebook or the Internet will tell you science says this or that. ALL science and I say ALL science says that fluoride on HEALTHY doses help your child's teeth. Healthy means a minimal dose of fluoride less than a few grains of sugar are exposed to your kid's teeth and not so much to your body. If your child cannot spit out then we do not recommend fluoride toothpaste. Our Signature Smiles Houston Dental office has fluoride free toothpaste for our baby visits and we have prescription strength fluoride free toothpaste for your teenagers.
WE ALWAYS RESPECT OUR PARENTS AND ADULTS AND WILL WORK AROUND ANY LIMITATIONS OR CHOICES THAT YOU MAKE. AAPD and the ADA and even the CDC recommend fluoride.
Please read the links below.
http://www.aapd.org/media/Policies_Guidelines/G_fluoridetherapy.pdf
http://www.ada.org/en/public-programs/advocating-for-the-public/fluoride-and-fluoridation
http://www.cdc.gov/mmwr/preview/mmwrhtml/rr5014a1.htm
Previous Post
Next Post