Use Your Dental Insurance for Oral Braces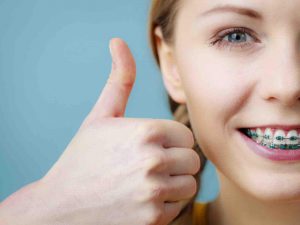 There are less than two months remaining in 2017, which means there are less than two months left to use your dental insurance for the year. Now is the time to take care of whatever major dental needs you may have. Our dental office is here to make sure your oral health is in great shape.
Many people may not know this, but you can actually get your orthodontics work covered by your dental insurance. Depending on the severity of the case and how it can affect your health, insurance companies will cover the cost of braces.
REASONS WHY DENTAL INSURANCE COVERS BRACES
Our office provides braces of every kind: metal, ceramic, and Invisalign. Braces straighten crooked or misaligned teeth and bring gapped teeth closer together. This helps fight against cavities and other oral issues. You may be wondering how. Here are several ways:
When teeth are brought closer together, it helps ensure that food particles don't become stuck in between teeth. When food particles become stuck and remain in the mouth, they break down into plaque that starts to eat away at the teeth's enamel and create cavities.
Food particles love to hide from the toothbrush. Crooked and misaligned teeth help food hide. When this happens, the plaque can also affect the gums and create periodontal disease. Periodontal disease (gum disease) has been proven to be connected to several fatal health problems, like diabetes, stroke, and heart disease.
By keeping teeth close together, it improves their strength. This helps keep them sturdy and strong and makes them less likely to encounter weakening or tooth decay.
These are just some of the reasons why your health is dependent on braces. Our orthodontists will inform you of which braces would be best for you.
USE YOUR DENTAL INSURANCE FOR BRACES TODAY
Now is the time to put your dental insurance to work. The year is coming to a close, so get your dental braces before 2017 ends. Contact our dental office today and book your appointment.
Previous Post
Next Post