The Importance of Child Oral Exams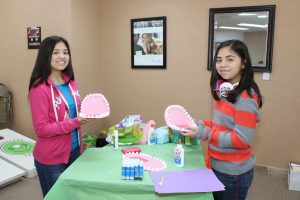 You monitor everything your child does, like their education, how clean their room is, their eating habits, and their overall health. It only makes sense to monitor their teeth as well.
As your child grows, their teeth grow with them. As a parent you work hard to make certain they are brushing, flossing, and rinsing regularly in order to protect their baby teeth and their adult teeth as they grow in. The fact is, however, that you can't check every part of your child's mouth. There may be sections, regardless of how small, that go unmonitored, which is why you need to have your child's teeth examined by our pediatric dentists.
THE BENEFITS OF ORAL EXAMS
Keeping your child in the best of oral health is the main priority for our Houston kids dentist. We know that you don't have the dental technology of a dentist office, which is why we encourage all of our parents to schedule their kids to have a dental examination regularly. We recommend a checkup every six months.
These oral checkups allow our dentists and oral hygienists to conduct thorough examinations of every part of the mouth. We check everywhere in order to find cavities or other possible problems. These checkups can include dental X-rays, so we can see if there are any problems under the gums. Since we can only see the gums and teeth, utilizing oral x-rays allows us to see if there are any serious issues, like cysts or built up bacteria.
These examinations will help ensure your child's teeth remain in pristine condition, as long as they are maintaining their teeth at home too. If there are any cavities, we will be able to take care of those immediately with dental fillings. Taking care of cavities in a timely manner helps keep more serious problems at bay.
SCHEDULE AN APPOINTMENT WITH OUR KIDS DENTIST
If your child hasn't had an examination within the year, then we recommend you schedule an appointment with dental office.
Previous Post
Next Post