Signature Smiles: Making Pediatric Dentistry Easy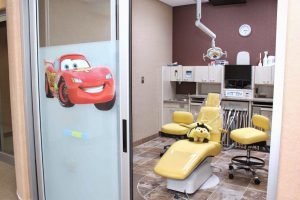 We love working with kids. Kids are hilarious. They are fun. Ready to smile. And typically ready to listen to what our pediatric dentists have to tell them. In some cases, however, pediatric dentistry can be difficult.
At Signature Smiles, we understand when children are hesitant about coming to a dentist office. Maybe they have had a bad experience at another dental clinic. Or they've heard horror stories from friends. For whatever reason they are hesitant, our kids dentists are here to make your kids feel right at home.
STARTING WITH A GAME PLAN
Our dentist, Dr. Stanworth gave a lot of thought to this whole dynamic of kids. His goal was to provide the very best dentistry to kids and their families without the boredom and anxiousness that come with typical offices. What do kids like to do? Oh, yeah. Video games and movies. This is why we have an arcade room, with enough video games for every kid, as well as big screens with kids movies playing.
The purpose behind this is to allow kids to focus on fun things rather than dwelling on being at the dentist. No anxiety. No nervous stomachs. No need to hide.
And when kids get to their dental chairs, they don't really leave the entertainment behind. Each chair is provided its own TV screen where they can choose their favorite TV show or movie. This helps them relax when it is time for their procedure.
OUR DENTISTS KNOW HOW TO WORK WITH KIDS
Our pediatric dentists know how to work with children. Each has years of experience and are highly trained to deal with children who are nervous or scared. Our dentists earn the trust of patients and ensure they do not feel any pain during their procedure.
We also provide sedation, which helps a child sleep during the procedure. This is commonly used for extreme cases or when a parent requests it.
No matter what type of dental procedure has to be performed, our pediatric dentists are ready. So bring your child to our  dentist office and put their oral health on the right track. Contact us today and book your appointment.
Previous Post
Next Post