Should Children Use Mouthwash? FIND OUT!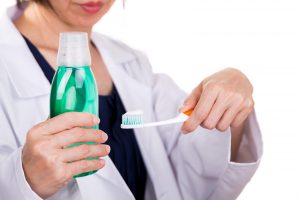 Keeping kids' teeth healthy is extremely important for various reasons. Healthy teeth ensures there aren't any cavities, which can become painful. Many of us remember the nights of dealing with tooth pain as a kid, and those moments were terrible.
Our Houston area dentists feel for kids who have tooth pain from cavities. We understand the source of the pain and how to deal with it. This is why we highly encourage parents to push oral health at home. Kids need to learn the importance of brushing twice per day and flossing between teeth daily. When it comes to rinsing, however, it is a little different.
IS RINSING BAD FOR KIDS?
Yes, rinsing helps remove any remaining food particles and bacteria left after brushing and rinsing. It is a very important part of keeping the mouth clean. Mouthwash has fluoride, which has been proven to decrease tooth decay by up to 60%.
Due to this fluoride, however, antiseptic mouthwash is a very strong formula that can hinder children's teeth. We recommend that children under six years old not use mouthwash with fluoride.
If a child uses fluoride mouthwash, especially too often, it can create fluorosis. Fluorosis takes place while a child's teeth are still growing. It can affect the color of the teeth, by creating white or brown spots, and their texture, by creating bumps.
Of course, mouthwash, just like toothpaste, should never be swallowed. Some children haven't acquired the ability to swish and spit. Swallowing mouthwash can be harmful. Waiting until a child can properly swish and spit out mouthwash is the best alternative.
KEEP KIDS' TEETH SAFE
At Signature Smiles, our kids dentists want to keep kids' teeth safe and healthy. We encourage parents to ensure their kids are brushing twice per day, flossing daily, and visiting the dentist every six months for dental cleanings. Contact us to book your child's dental appointment.
Previous Post
Next Post