School's Out! But Keep Your Teeth In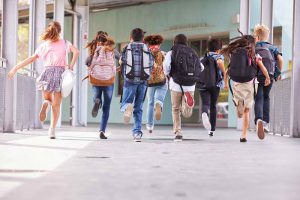 May is officially coming to a close, which means that school is out. With summer right around the corner, kids are going to be having sleepovers, going on vacations, and doing whatever kids do. Along with these fun activities, comes the desire to eat really unhealthily. Late nights lead to ice cream binges. Late mornings lead to multiple bowls of cereal (and not the healthy kind either).
We love the summer and we love sneaking in a dessert binge every once in a while. But we also know how important it is to ensure those sugars get out of our system. The best way to accomplish this is by starting with oral upkeep.
Our pediatric dentists encourage all of our kids who come to see us to brush twice per day, floss daily, and rinse daily. We also tell the parents to make sure to schedule a thorough dental cleaning for their kids every six months.
DO THE SIMPLE DENTAL THINGS
Doing these ordinary measures helps keep kids from accruing plaque buildup. Plaque happens when the sugars from those sweets and other foods turn into a bacteria. This plaque bacteria, if not removed by daily cleaning, can break through the enamel and develop dental caries. Dental caries, known as cavities, can spread and cause real harm to the teeth.
This is why dental cleanings by a pediatric dentist is so important. At Signature Smiles, we are able to eliminate hard to remove plaque and find any small cavities and remove them before they get bigger.
So as the summer months heat up, allow our dentists to cool down your family's dental issues. Let the kids stay up late and sleep in, but make sure they make time to care for their teeth.
If you are looking for a pediatric dentist in your area, then contact us to book your appointment. We look forward to the summer and to seeing you and your family.
Previous Post
Next Post