A Houston-Area Dental Office That's Really About Kids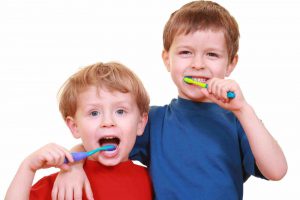 When it comes to going to the dentist, kids usually don't have that trip at the top of their list. That's why our dental office is so focused on ensuring that every child has a great experience when they come to our dental clinic.
Signature Smiles has been making kids smile for years before, during and after the dental procedure. Some people may wonder why we focus so much on pediatric dentistry, but to us, it's simple.
The reason we focus on kids and making sure they are happy is because they need to have good first experiences in the dental chair. When children have great experiences with the dentist, then this will help ensure that they continue to go to the dentist as they grow older. We are interested and invested in turning kids into adults that care greatly about their teeth.
WHAT ARE THE BENEFITS OF GREAT ORAL HEALTH
By educating kids on how to best take care of their teeth, they are able to grow up understanding the many benefits of pristine oral health. Here are just some of the benefits that come with taking care of teeth:
CONFIDENT SMILE: Kids who take care of their teeth keep plaque from building up around their gums and eating away at their enamel. These problems can lead to tooth decay and gum disease, which can destroy teeth. With bad teeth, kids and adults alike are hesitant to smile. With clean and healthy teeth, they can smile freely and be confident that they have a beautiful smile. A smile is one of the first things people notice.
OVERALL HEALTH: Patients who have good oral health most likely have good overall health. Did you know that poor oral hygiene can lead to numerous debilitating diseases, like diabetes, cancer, stroke, and heart disease? This happens because of the accumulation of plaque and the results of periodontal disease (gum disease).
LEGACY OF ORAL HEALTH: When kids grow into adults who have continued good oral health practices, then they tend to pass that on to their kids. We call this a legacy of oral health. At Signature Smiles, we know the more adults focus on their oral health, the more their kids will too.
BRING THE KIDS TO SIGNATURE SMILES!
It's never too early to start getting your kids accustomed to being at the dental office. We recommend bringing kids to the dentist when their first teeth come in. This will enable our dentist to make sure their teeth are growing in properly and their gums are healthy. So bring the kids to Signature Smiles and start them on the path to great oral health.
Previous Post
Next Post