Hot Trend In Cosmetic Dentistry: Dental Implants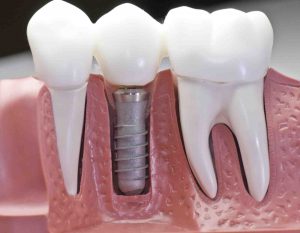 More than ever, cosmetic dentistry is able to provide you with a great smile and better oral health. It is possible now to resolve most dental health issues that can have a negative effect on the health of your mouth, all while giving you the smile you've always dreamed of.
Although Signature Smiles is often associated with awesome pediatric dentistry due to the immense popularity of our adorable Dr. Z video campaigns, let's not forget that our dental office also offers great cosmetic dentistry services.
Cosmetic procedures differ from general dental procedures in that they are optional and elective. Whether you are looking to straighten or whiten your teeth, replace missing teeth, etc., our dentists do it all. You can also be sure that we give priority to responsible esthetics.
Dental Implants: More Popular Than Ever
A trend in cosmetic dentistry is the growing popularity of dental implants. Dental implants are titanium posts used to create a tooth root. These titanium posts are surgically positioned below the gum line, thus creating a stable foundation for artificial teeth.
Patients are choosing to use titanium roots to replace missing teeth more than ever. Let's face it, you can have straight teeth that are whiter than snow, but just one missing tooth can ruin your entire smile.
Dental Implants More Convenient and Effective Than Other Options
It used to be that the only options to replace missing teeth were bridges and dentures. However, dental implants now offer a more viable, affective alternative. The artificial teeth attached to the titanium root are permanent and typically last a lifetime. Unlike bridges and dentures, these artificial teeth are not removable and are cleaned the same way you clean your natural teeth.
Our implants are a great alternative because they look, feel, and function like your natural teeth. You can now smile with confidence, knowing you have a full set of teeth that look natural. In addition, dental implants allow you to chew properly, thus leading to better digestion and overall health.
If you are interested in exploring dental implants or any other cosmetic dentistry procedures, contact us to set up a consultation.
Previous Post
Next Post