Hitting the Beach for Spring Break? See the Dentist First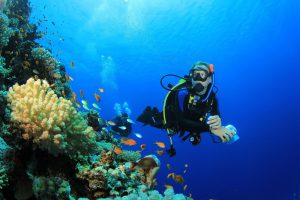 It's March, which means the Spring Break is right around the corner. Depending on which Houston school district you're in or which university you attend, Spring Break may be at the beginning, middle or at the tail end of March. It's a real hit or miss, so we decided to discuss the special week at the beginning of the month.
At Signature Smiles, when we think Spring Break, we think the beach. The beaches around the US, especially Florida, will be packed with visitors. Many of those spring breakers choose to do some snorkeling or scuba diving (of course, this leaves out Galveston). If you happen to be one of those aspiring to go deep under the water, then you may want to come visit us first.
SCUBA DIVERS AND DENTISTS
According to a recent study at the University of Buffalo, 41% of scuba divers experience dental issues in the water. The issues come in a wide variety. There have been complaints of tooth, jaw, and gum pain, as well as the loosening of dental crownsand breaking of dental fillings. The main reasons for these oral issues is due to the clenching of teeth and the changes in the atmospheric pressure due to diving to certain levels.
Although divers are required to pass a fitness test to become certified, there are no dental examinations that are required. For this reason, we advise all of our patients to schedule an oral examination before heading out to sea.
Complaints of oral pain and other issues were typically due to diving in shallow waters whether pressurization fluctuates more than in deeper waters.
Since Spring Break is almost here, our Houston dentists recommend you come in for a check up, especially if you are already feeling pressure or pain in certain areas of your mouth. Your dental health is paramount to us, and we want you to enjoy your Spring Break, rather than spending it at the dentist.
Schedule your dental appointment today and Happy Spring Break!
Previous Post
Next Post