Study: High Level of Satisfaction in Dental Implant Patients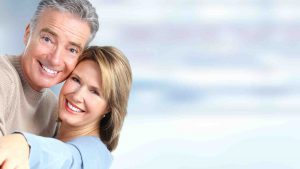 As average life expectancy increases, so too are people's interest in ensuring a happy, healthy lifestyle. A big part of maintaining a high quality of life is diet. However, if a person is missing a tooth, their ability to chew can greatly be affected, thus limiting their food intake and hindering them from obtaining vital nutrients.
At Signature Smiles, dental implants are one of the most common and popular treatment options for missing or cracked teeth. In recent years, there have been remarkable advancements in false teeth technology, and Signature Smiles has been at the forefront in the implementation of these advancements throughout the Greater Houston area.
In the past, the only treatment options for missing teeth were bridges and dentures. Both are effective, but if the patient is in good health with a healthy jaw and gums, we generally recommend dental implants because of their many advantages. Such advantages include: superior chewing ability and efficiency, better teeth preservation, and easier cleaning and upkeep.
Study Shows High Level of Satisfaction with Dental Implants
A recent study sought to determine patient satisfaction with their dental implants 8-14 years after implementation. This study included 587 patients at a specialist periodontology clinic who were asked to fill out a questionnaire about their dental implants.
The questionnaire consisted of 19 statements or questions relating to the level of satisfaction with their implants. The average time that had elapsed since implant installation for respondents of the questionnaire was 10 years.
Researchers found that an overwhelming majority (81%) reported a high chewing comfort with their implants. Additionally, an even greater number of respondents (94%) reported being satisfied or sufficiently satisfied with the aesthetic aspects of their dental implant restorations. These findings suggest patients who receive false teeth restorations in the form of implants experience a high level of overall satisfaction.
Come To Signature Smiles For Your Dental Implants
The cosmetic dentistry services, such as dental implants, offered at Signature Smiles go beyond aesthetics. Sure, we definitely want you to look good, but our greatest concern is your overall health. So contact our office, and we'll get you on your way to looking and feeling good!
Previous Post
Next Post