Study: Dental Implants Improve Quality of Life for Women with Osteoporosis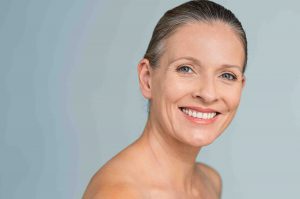 Osteoporosis is a disease in which the strength and density of bone weakens. As bones weaken, they become more brittle, thus increasing the risk of broken or fractured bones.
Osteoporosis affects approximately 54 million Americans. Although it can affect both males and females, postmenopausal women are most at risk. One in two women over the age of 50 will break a bone due to osteoporosis. In addition, people with osteoporosis are more prone to tooth loss. When left untreated, the sufferer's ability to chew food is restricted, which can lead to nutritional deficiencies.
The changes in physical appearance and mobility associated with osteoporosis often lead to feelings of isolation or depression. However, dental implants can assist those with osteoporosis to live confident and fulfilling lives.
Osteoporosis Patients Happier with Dental Implants, Study Shows
A recent study published in the Journal of International Dentistry suggests that dental implants lead to a better quality of life for women with osteoporosis. The study was conducted by Case Western Reserve University School of Dental Medicine, where 237 women were surveyed about their satisfaction with replacement teeth and how it improved their professional and personal lives.
Through a 23-question survey, participants rated their satisfaction with work, health, and emotional well-being. The study found that women with dental implants reported the highest overall satisfaction in these areas, while women without dental implants reported the lowest.
How Signature Smiles Can Help
Signature Smiles can assist in helping those with osteoporosis lead more confident and healthy lives. Dental implants allow patients to freely eat whatever they want/need, while boosting confidence in their smile. In addition, dental implants are the only kind of tooth replacement that actually helps stimulate bone growth and prevent bone loss.
Signature Smiles uses the latest in dental implant technology to deliver high quality treatment to our patients. Although osteoporosis can be a debilitating disease, with proper management, patients do not have to experience a loss in quality of life.
Let Signature Smiles help you or your loved one lead a happy, confident, and fulfilling life. Contact us and schedule your appointment.
Previous Post
Next Post