Get Your Child Their Braces Before School Starts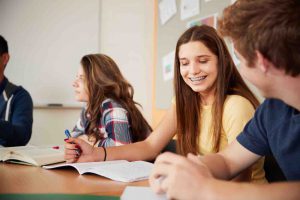 The month of July is almost over, which means school will soon begin again. Before your kids march back to school, consider getting them their Invisalign (along with Invisalign Teen). Each orthodontic option comes with its own set of specific benefits (of course, the most important is that they all straighten teeth).
Metal braces are the least expensive and are the strongest braces available. Ceramic are also very strong and rather similar to metal braces. They also match the color of teeth, hence the reason they are commonly referred to as clear braces. Lastly, Invisalign braces are plastic tray aligners that are removable for a few hours per day (for eating and brushing/flossing purposes), and make straightening teeth almost unnoticeable.
PICKING THE RIGHT BRACES FOR YOUR KID
Our orthodontist sits down with each patient and discusses how orthodontic treatments work. The ortho dentist also answers any and all questions the pediatric patient and their parents may have. Our goal is to ensure every patient knows what they want and what they will receive after choosing a specific type of braces.
The orthodontist at our Houston area dental office will advise on which type of braces will best fit their needs and will straighten their teeth the quickest.
SCHEDULE YOUR CHILD'S BRACES APPOINTMENT
Interested in getting braces for your child before school starts back up? Contact our dental clinic today and schedule their free consultation with our Board Certified orthodontist or braces dentist. We look forward to placing your child on the path to a beautiful smile.
Previous Post
Next Post