5 Hilarious Dental Memes
Everyone loves memes. They're hilarious. Catchy. Rather creative. And pretty spot on. We figured it would be fun to put together a list of 5 hilarious dental memes to give you a good laugh. If you know any funny dental-related memes or gifs, then post them on our Facebook page.
Here's to your oral health and having a good laugh: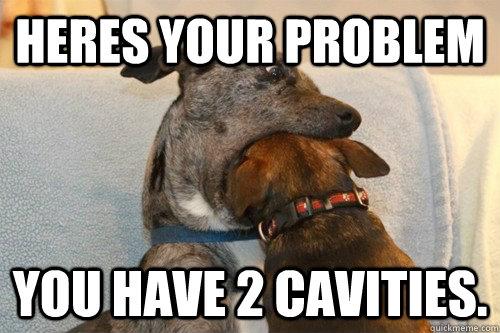 Sometimes it feels like the dentist has to get that far into your mouth to search for cavities and other dental problems. At Signature Smiles, we try our best to make your dental visit as pleasant as possible, even when those cavities are hard to find.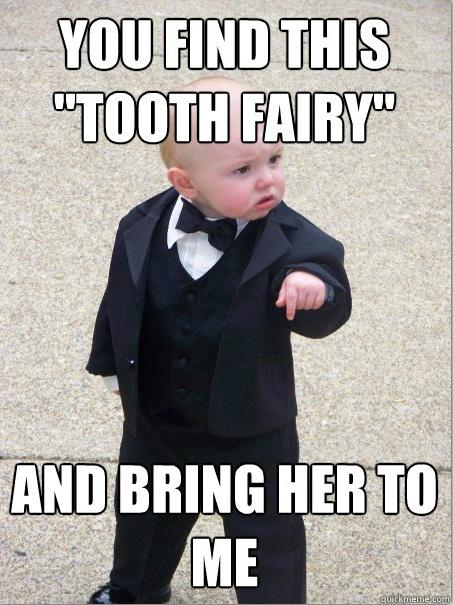 We all remember the fear of having our tooth pulled, but once it came out either from eating, playing with it, or by being as brave as possible and pulling it out, then it was actualy pretty cool. We never kept the tooth for long. At night, we would put the tooth under our pillow, go to sleep, and wake up excitedly to see what the Tooth Fairy had left us. As fun and exciting as it was, we also knew when the Tooth Fairy got a little cheap. Apparently this meme describes our childhood feelings pretty well.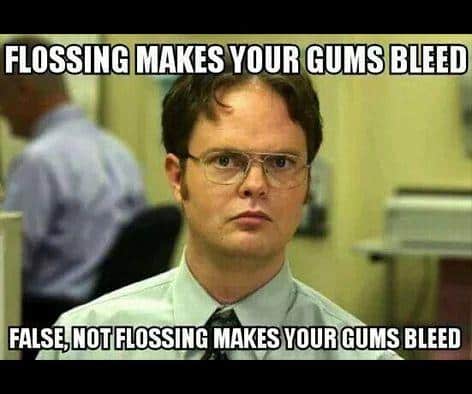 There aren't very many shows that were funnier than "The Office" and there haven't been too many characters that were as comical as Dwight Schrute. Although flossing is no laughing matter, here's to "The Office" for making us laugh once again.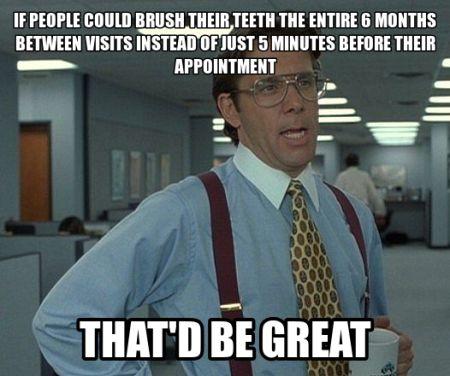 Speaking of offices, "Office Space" is a cult classic movie and we all remember Lumbergh. Unfortunately, not everyone remains as consistent with their oral health as they should. It's a funny reminder to brush thoroughly twice per day, and go ahead and floss and rinse too. That'd be great.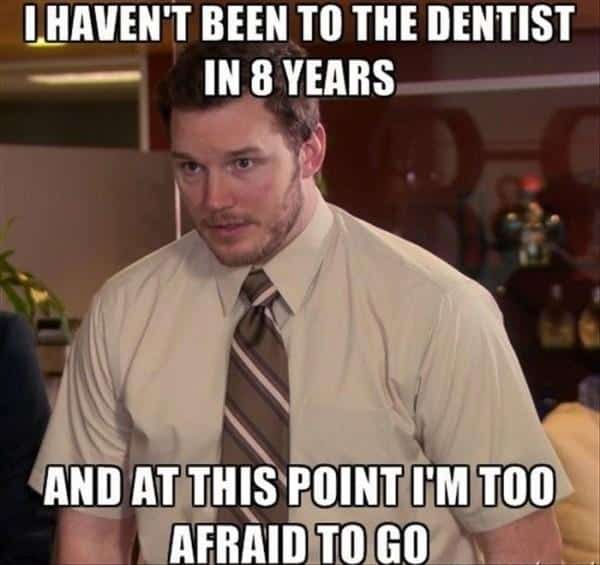 Since we are on the topic of dentistry and entertainment (movies and TV shows), a nod to "Parks and Recreation" only seems appropriate. Hey, Andy Dwyer, we get it. Many people take long periods of time away from the dentist, but don't let that keep you from making your appointment. Whatever the problem may be, it isn't anything our dentists at Signature Smiles haven't seen before.
If you haven't seen the dentist in a while or just need a routine dental checkup (a bit less intrusive than the first meme, of course), then contact our dental office. We look forward to seeing you and helping you maintain a healthy oral lifestyle.
Previous Post
Next Post