Your Child Should Be Seeing A Dentist – Here's Why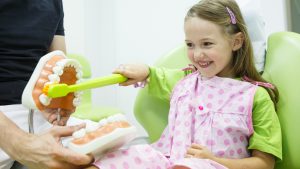 Finding the right pediatric dentist is an important part of keeping your child healthy. You want someone who you can trust, and who your children feel comfortable with. Starting your child's dental care at a young age is vital to making sure they have healthy teeth throughout their lives. At Signature Smiles, we know how important all these things are to you. Our expert team is trained in working with childrens teeth, and making your child feel comfortable in the dentist office.
WHAT DO PEDIATRIC DENTISTS DO?
Pediatric Dentists have a variety of things they focus on when working with children. One major piece of this is dental education. Starting dental education for your children at a young age helps prevent things like cavities in the future. Our pediatric dentist will teach your child how to properly brush and floss, and help them understand why good dental habits are so important. We are also able to monitor the progress of growing primary and secondary teeth. This education is not just for the children, but also for their parents. We spend time with every family helping them learn about dental health for children. This way, good habits will be built in our dental office and at home.
WHY ARE PEDIATRIC DENTISTS IMPORTANT?
Children's teeth can be difficult to clean. They are more prone to tooth decay and gum disease than adults. Visiting our office is a great way to help prevent these things. With regular cleanings, our team can help your child stay cavity free. This also helps us monitor how well they are cleaning their teeth at home. If your child is struggling with their dental health, our expert team is great at guiding them through all the ways they can make cleaning their teeth fun! We know sometimes it can be hard to get children to enjoy brushing their teeth, and Signature Smiles is here to help.
SCHEDULE YOUR CHILD'S DENTAL APPOINTMENT TODAY
If you have been searching for a pediatric dentist in the Houston area, visit our office today! We look forward to helping your family achieve clean and happy teeth this year.
Previous Post
Next Post