Ceramic Braces Have Become a Great Fit for Houston Patients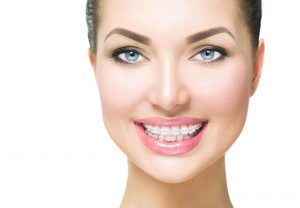 At Signature Smiles, we specialize in braces. We offer every type of braces for every type of dental issue, including Invisalign, metal braces, and ceramic braces. When people think of braces they typically think of metal braces, which are the most common, and Invisalign, which have become the most popular. But ceramic braces are a great choice for patients‒adults and kids‒who want to combine the two. Ceramic braces, which are considered clear braces, combine the strength of metal braces with the invisibility of Invisalign. These braces are placed on the teeth in the same manner as metal braces and cannot be taken off, unlike the plastic tray aligners of Invisalign. The braces, however, are made of ceramic and are therefore tooth colored, which makes them almost unnoticeable.
THE UNSUNG HERO OF BRACES
If you think about it, ceramic braces are really the unsung hero of braces. They combine the best of both types of braces and they are priced reasonably between metal braces and Invisalign. Even more so, right now Signature Smiles is offering ceramic braces for $3500* till August 31. Kids and adults who want to have their teeth straightened in style should consider the clear braces method of ceramic braces. Our orthodontist, Dr. Gary Gardner, has more than 20 years of experience with orthodontics and can ensure that you and your family receive the best dental treatment possible. If you have gapped, misaligned, or crooked teeth, then ceramic braces are perfect for you. These braces will adjust your teeth and straighten them. This will help provide a beautiful and healthy smile.
GET YOUR CLEAR BRACES TODAY!
Take advantage of our special summer braces offer now. At the low price of $3500, it is a great deal on a great set of braces. Contact our dental office today. Payment is cash only.
Previous Post
Next Post