Bring the Kids for Summertime Pediatric Dentistry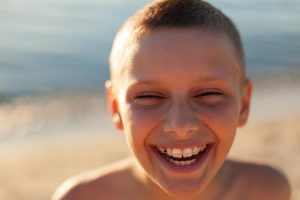 The kids are out of school and probably consuming a pretty unhealthy diet. Now is the perfect time for scheduling their pediatric dentistry appointment at our dental clinic
Pediatric dentistry is essential to protecting your child's oral health. Our pediatric dentists are able to pinpoint any oral issues your child may have while also pointing out the positives and how they can continue maintaining their oral health.
At Signature Smiles, we provide numerous pediatric dental services to our kid patients. We provide dental fillings, dental crowns, braces, wisdom teeth extractions, and many more services. One of the most important dental service our kids dentists provide is the dental exam.
KIDS DENTAL EXAMS
Kids, just like adults, need to receive a dental exam every six months. This bi-annual oral checkup allows our dentists to catch any problems arising in the teeth, like cavities and gum disease. Dental exams help parents save money by catching dental problems while they are small and not after they become a big problem.
Typically, oral issues, especially in children can be addressed through preventative measures. This means making certain that your child is brushing their teeth twice per day and flossing every day. Our kids dentists also provide simple tips, like chewing sugar free gum, to make certain kids steer clear of gum disease, cavities, and other oral hazards.
If your child is new to the dentist and may be a little hesitant, don't worry. We have video games and movies to keep their minds preoccupied so they can relax while at the dental office. Our dental staff loves working with kids, and each member understands the importance of starting children off on the right path to great oral hygiene.
START YOUR KID ON THE RIGHT DENTAL PATH THIS SUMMER
Has it been more than six months since your child's last dental exam? Then contact us and schedule their pediatric dental appointment today. We look forward to providing them with great pediatric dental care.
Previous Post
Next Post